White House Press Sec. Jen Psaki Offers Advice to Would-Be Replacement
WH Sec. Jen Psaki
*IFWere to Leave …
Some Tips for My Replacement
4/16/2022 3: 35 PM PT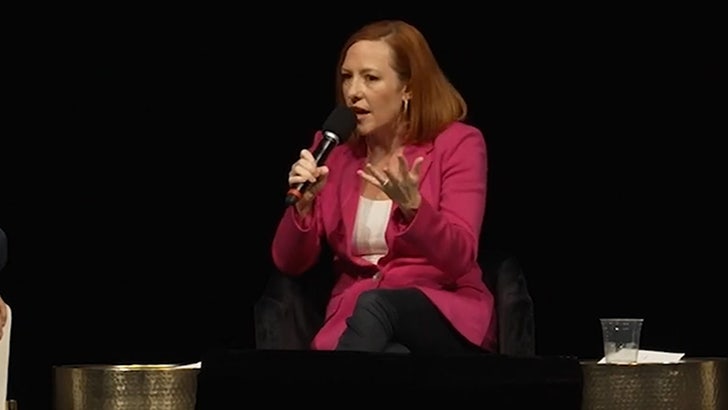 Pod Save America/Crooked Media
Jen Psaki may or may not be leaving her post at the podium, but if she does … she's got a few nuggets of knowledge to pass on to whomever might replace her, and they're not bad.
The White House Press Secretary sat down with 'Pod Save America' this week and was asked, hypothetically speaking … what advice would she offer to someone who might be coming to fill her shoes? Assuming she leaves — and there is rumor that she will — we are again asked what advice she would give to someone who might be coming to fill her shoes.
Psaki actually opened quite a bit on this front … as she's clearly learned a lot of the job over the past year-plus that she's carried the torch for President Biden and his administration.
She says that whoever is offered the next job must realize that the American people are not stupid and that you don't have a need to talk to them like grade-schoolers. Psaki believes people are very attentive and knowledgeable, so a Press Sec. Psaki says people are paying attention and quite knowledgeable — so a Press Sec.
She also said that the best PS have a broad knowledge of what they are discussing with the media and aren't just reciting talking points. In other words, you know that you're !
Finally, she said that a Press Secretary must be patient with reporters who will undoubtedly ask the exact same questions in a million different ways. It's important to be consistent in messaging. Otherwise, you could be taken outof context and made out as Satan, she said.
The last thing Psaki suggests to you is that… if it's not clear, don't pretend you know. This is especially true since you're essentially speaking for the President.
To her credit, Psaki has held her own pretty well so far… despite a very up-and-down first year in office. We hope her replacement will follow her lead if she does bounce!
I have been writing professionally for over 20 years and have a deep understanding of the psychological and emotional elements that affect people. I'm an experienced ghostwriter and editor, as well as an award-winning author of five novels.